Group and private lessons
We're here to help you build confidence!  Regardless of your current level, we've got programs that guarantee success. Whether you are a first-timer or an expert skier or snowboarder, we can help! 
Wondering where you or your child fit into our Learning Center Programs? 
Group Lessons
Alpine Ski & Snowboard Group Lessons Available Daily at 10 am until Noon, and 1 pm until 3 pm. Reserve in advance.
Available daily. Lessons begin at 10 am or 1 pm. Book in advance to guarantee your spot. Walk in possible ONLY when space is available.
Levels
Ski: Levels 1 - 6 (levels 7, 8 and 9 are private lesson only)
Snowboard: Levels 1 - 4 (levels 5 and 6 are private lesson only)
AGES 6 & UP ONLY
Price:  $76
Nordic Lessons Available Thursday - Sunday and holidays at 10 a.m. and Noon  Purchase these lessons at the Nordic Yurt.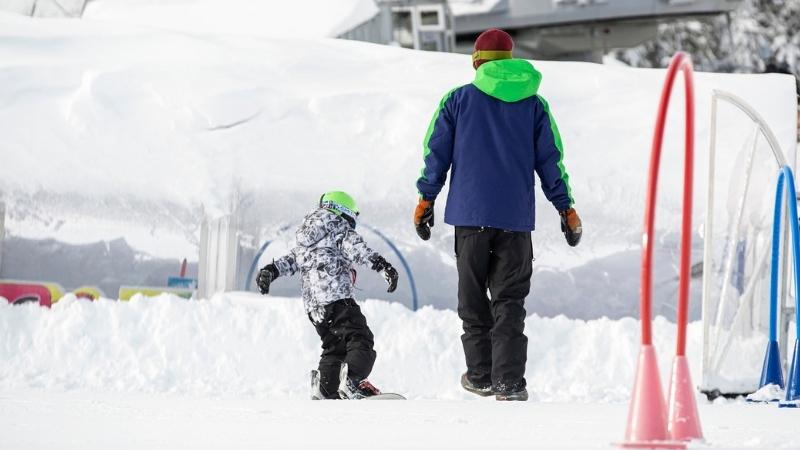 Private Lessons
Private lessons are scheduled on the hour beginning daily at 9 a.m.
One Person  1- Hour $110,  2- Hours $155  
Available for ages 3 and up.
SKI:  Reserve a 1-hour or 2-hour private lesson
SNOWBOARD: 1-hour or 2-hour private lesson
Each additional person 1-hr.  $50; 2-hrs. $75 
*Lift tickets are not included with any group or private lesson.  
Call our Learning Center Desk for more information:  509-672-3101 ext. 2. 
Please arrive in the Learning Center Meeting Area ten minutes prior to your lesson time.
Lesson Packages

Get Started with our Introduction to Skiing or Riding Package or our 3-Time EZ Ski/Ride Package. These packages include lesson, rental and lift ticket and are available daily. These programs are suited for BEGINNERS. The first lesson is quite basic including equipment familiarization and basic movement on snow progressing to learning how to stop and turn.
Available daily. Lessons begin at 10 am or 1 pm. Book in advance to guarantee your spot. Walk in possible ONLY when space is available.
AGES 6 & UP ONLY
1-Day Intro to Ski / Ride Package
Child: $99 / Junior: $99/ Adult: $109
3-DAY EZ SKI / RIDE PACKAGE
Child: $155 / Junior: $199/ Adult: $209
LIL' SHREDDERS         
Special 2-hour ski experience for our guests ages 4 & 5 / Rental Equipment Included. (Daily December 20 - January 1 plus Monday, January 16 and Monday, February 20) 

Available on Weekends and Holidays beginning December 20.
RESERVATIONS REQUIRED - LIMITED SPACE AVAILABLE - BOOK ONLINE
Share your passion for the mountains and skiing with your kids ages 4 & 5!  When children learn to ski at this age, you give them a lifetime of winter recreation!
Guided by an instructor and a Cadet, 4 and 5-year-old Alpine students will join us in a small group setting for 2-hours of fun and on-snow interaction. Rental Equipment included. Some class time may be spent indoors learning the basics. Cocoa and snacks will be provided (always a highlight).
NOTES:
*Students must be able to use the restroom independently
*Only one class time available per student per day (i.e. students may not attend both morning and afternoon sessions)
PROGRESSION
This class is suited for:
Level 1 -  "Never Evers"  - Have never skied before
Level 2  - Has had a lesson before and is working on pizza and turning. Rides the little carpet.
Level 3  - Can turn right and left, rides the big carpet, and independently stays in control skiing down the big carpet.
IF YOUR 4-5 YEAR OLD IS MORE ADVANCED THAN LEVEL 3: - Private lessons are also available for ages 3+. Please call ahead for booking.
Rate:  $109